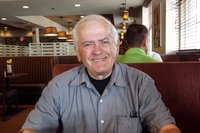 Raymond "Gus" Gregg
RAYMOND GREGG (GUS)
"May the road rise up to meet you,
May the wind be always at your back,
May the sun shine warm upon your face,
the rains fall soft upon your fields and until we meet again,
May God hold you in the palm of his hand."
Raymond Gregg (Gus) passed away peacefully with grace and in the presence of his family on March 18th, 2021.
He is survived by his childhood sweetheart Sharon of 62 years.
Loving father of Miles (Alexandra) and Lisa (John).
Proud Grandfather to Eton, Austin, Grayson, Declan and Donovan.
Born in Transcona, Ray began work as an electrician for the CN Railway.
Furthering his education, Ray later earned his Bachelor in Commerce.
Ray joined with IBM in 1965 where he enjoyed a long and successful career.
As a senior executive, Ray embraced the opportunity to travel the world with his young family.
Including an extended posting in Belgium where he received the highest awards of excellence.
Ray's charismatic nature, clever wit, and generosity drew people to him.
Ray was a mentor, guide and a good friend to all.
He had an ability to reach people and make people feel important.
Speaking to people came easily to Ray and his broad range of knowledge enabled him to speak on any topic with ease.
In honouring Ray's wishes, a private family ceremony to be held at Cropo Funeral Home, April 12th at 2 - 4 pm.