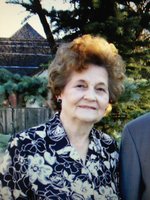 ROSE SOPHIE ROBERECKI
ROSE ROBERECKI
April 27, 1930 – March 22, 2021
Rose was a dedicated mother and grandmother giving much of her time to raising her family. She was an accomplished baker and excellent cook, taking great pride in creating elaborate meals for family gatherings. She was always generous with her time and attending to the needs of others.
Rose was born and raised in Arborg, Manitoba. She later moved to Winnipeg where she attended business college and worked at Eaton's Public Relation Office. Rose was an avid gardener and enjoyed attending Holy Eucharist Church.
Left to cherish her memory are her sons Lawrence (Susan), Grant, Wayne, daughter Angela (Walter) and two grandsons Alexander and Ashton.
Rose is also survived by her nieces and nephews.
Rose was predeceased by her father Anton and mother Julia (Dobryden); sisters Anne, Jean, Mary and Elsie; brothers Vladamir, Harry, Nick, Steve and her beloved husband Alexander.
A private service with interment at Holy Family Cemetery will be held at a later date.
In lieu of flowers, memorial donations may be made to a charity of your choice.