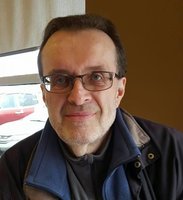 ROSS JAMES ZILKEY
ROSS JAMES ZILKEY, of Winnipeg, Manitoba
Born March 22, 1954, died March 21, 2021 aged 66 years
Ross was predeceased by his wife Heather (Tchir) in 2015, as well as his Father Fred and his Mother Isabel and his sister Faye Bissett from Edmonton, Alberta.
Ross is survived and will be greatly missed by his brothers Bryan (Ann) in Simcoe, Ontario; Gary (Dale) in Brandon, Manitoba; and his brother-in-law Bill Bissett in Penticton, B.C.
He will also be missed by his seven nieces and nephews and many cousins throughout Canada.
Ross spent his first 5 years on a farm near Manitou, Manitoba but has resided in Winnipeg since 1958.
Ross worked with his father's wholesale heating business and following his father's retirement, took over ownership and management until the business was sold. While at the University of Manitoba in mid 1970's, Ross managed the varsity men's basketball team for seven years and became close life-long friends with several of the teams' alumni.
Ross will also be missed by the many friends he made from his years spent at his parent's cottage at Bird River and more recently the cottage with Heather at Grand Marais.
Cremation has taken place.
Final funeral arrangements are pending.
Donations in memory of Ross are welcome and can be made to Cancer Care Manitoba or to Kidney Foundation of Canada, Manitoba Branch.