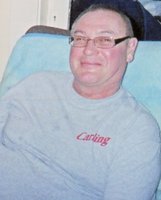 STEVE PETE URBAN
Suddenly, on Friday, January 22, 2021, Steve passed away at the Health Sciences Center at 60 years due to health complications.
He is survived by his daughters Tiffany (Rob) and Natasha (Ian), ex-wife, Kim, former spouse Mae, stepchildren; Jamie (Mo), Danielle, and Dylan; and his grandchildren; Alexina, Cynan, Monroe, Maverick, Damian, Alyssa, and Ava. He also leaves to mourn his passing, sisters, Irene of Ottawa, and Helen of Winnipeg.
Steve was predeceased by his parents, Steve and Olga.
From a young age, Steve was passionate about realty, property management, and renovations. He enjoyed his passion not only as a career but as a hobby as well, helping everyone he could. You could always hear him listening to classic rock music, especially his favorite stations, 92 Citi FM or Power 97. Steve also enjoyed the muscular era of classic cars from the '60s to '70s, especially the rag top convertibles and attending classic car shows.
Steve was always a cheerful and upbeat person, whenever life gave him lemons, he'd try to find a way to make lemonade. Although your time here was short, we will treasure the memories we have with you and will miss you so much, Steve. You will be missed by everyone you met throughout your journey in life.
Cremation has taken place; Funeral Service will be held on Wednesday, March 31, at 11:00 am, at Cropo Funeral Chapel, 1442 Main Street. Interment to follow in All Saints Cemetery at a later date.