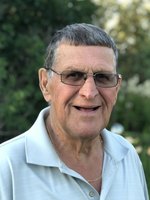 DONALD GEORGE GALE
With heavy hearts we announce the peaceful passing of our beloved husband, father, grandfather and great grandfather on March 23 at his son's home surrounded by his family. He was predeceased by his parents, Edmund and Catherine Gale. Don is survived by his wife Lynne of 59 years and their children Margaret and Dave Wegner, Donald and Cindy Gale, Robert and Lisa Gale and Nancy and Ronald Laurencelle. As well as his 8 grandchildren Lindsey(Jordan), Sean(Kathleen), Scott, Donald(Hayley), Brenden, Peyton, Hunter, and Alycia. Two precious great grandsons, Luke and Zack and another one on the way. Also survived by his siblings Cathy, Marlene, William and sister in law Jean along with nieces and nephews.
Dad was born at the St Boniface hospital on May 4, 1940 and lived in Southside until moving into Transcona in 1949. He married Lynne and together they raised their four children in Transcona. He was very active at the East End Community Club with his four children and volunteered his time being the maintenance man at the club for many years. He also spent countless hours coaching his children's baseball and ringette.
Dad worked at CN Rail Transcona Shop as a welder prior to transferring to Symington yard. He retired in 1994, after 34 years of service.
In 1975 dad and mom built a cottage at Victoria Beach where they spent many enjoyable weekends and summer holidays. Upon retirement they built a home near Coca Cola Falls where they were involved in the Lac Du Bonnet Legion playing darts. They also enjoyed golfing in the summer, snowmobiling and curling in the winter. Winters were enjoyed in Osoyoos, BC where he made many new friends from across Canada. Dad and Mom had the trip of a lifetime in 2008 traveling with their fifth wheel trailer to Alaska. He enjoyed driving thru the mountains, along the ocean and in the wilderness.
Dad was proud to be a Khartum Shriner for 33 years in the Vintage Car Club. He loved being involved with the Shrine Circus and driving his 1966 Olds 98 in the numerous parades and conventions. He loved spending time with his family and enjoyed taking his grandchildren to all the circus's and parades.
Dad was an outdoorsman who spent countless hours hunting and fishing with family and friends. He was thrilled to be taken fishing by his sons and son in law in the last few years even though his mobility had decreased. There was nothing that made him happier than to have his family close and playing practical jokes on them. In 2013 we were lucky enough to have the whole family travel to Mexico for his granddaughters wedding where he was able to go fishing on the ocean with his son and grandsons. He will be truly missed and forever loved.
A private family internment will take place. In lieu of flowers, donations may be made to the Heart & Stroke Foundation, Cancer Care or the Khartum Shriners.