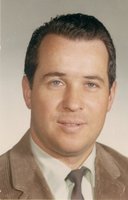 LEO RICHARD HORODYSKI
LEO RICHARD HORODYSKI
July 1933 – March 2021
On March 18, after a long and courageous battle with cancer, my dad, Leo Horodyski, passed away peacefully in his sleep.
Leo leaves behind Frances, his wife of 60 years, his two daughters, Angela (Wacek), and me, Cindy (Patrick), three grandchildren (Paul, Thomas, Nicole), his beloved sister Genevieve (Chris), many nieces and nephews and a mountain of good friends.
My dad lived a quiet life, but he was a busy man. He was a high school teacher, he was a builder and in his last years he was a survivor. He grew up in Beausejour Manitoba, and we spent a lot of good time out there with my Aunt Gen and Uncle Chris, my cousins Tim and Cathy, and my grandparents Bill and Stella Horodyski. We visited, we ate, we laughed and we saw all of the places that were a part of Dad's early life. My dad's most cherished place was our family cottage in Ontario, and Dad spent many years building and furnishing it. He was an avid snowmobiler, and we spent a lot of winters at the cottage travelling through the forest and over the lakes, cutting down and decorating trees at Christmas, and celebrating New Year's Eve under the frozen stars.
Dad loved and was dearly beloved by his neighbours, and they often came out to visit with him during his daily walk.
My family thanks all of the amazing doctors, nurses and other caregivers who showed immense kindness and took such good care of my dad throughout his lengthy illness.
It was a true privilege to have been a companion and caregiver to my dad Leo in the last years, months, weeks and days of his life.
He will be dearly missed by all of us.
Rest in Peace Dad.