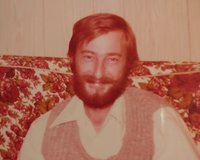 FREDERICK BRIAN SUTTON
FREDERICK BRIAN SUTTON
It is with great sadness that the family of Frederick Brian Sutton announces his passing after a brave battle with cancer on Saturday, March 20th, 2021 at the age of 67.
Frederick will be lovingly remembered by his children Hayley (Steve), Frederick Jr. (Mel), Sheila (Jack) and grandchildren Dylan and Daniel. He will also be dearly missed by his sisters Linda (Lloyd), Nancy, Barbara (Dave), and Susan (Dave); sisters-in-law Cindy and Bonnie, brother-in-law Marc as well as many nieces and nephews. Also with heavy hearts are Fred's dear close friends Eddie and J.J and lifelong friends Billy, Randy, Hammer and Domo who were all a great source of strength and support to him during his battle with cancer.
Waiting to welcome him home are his parents Alice May Kettle and Frederick
Thomas Sutton, as well as sisters Amy, Valerie, and Janice and brothers Glenn Tommy, Dennis and brother-in-law Vern.
Frederick was born on July 13th, 1953. He was raised in Transcona on Melrose Ave where he made many long-term friendships and fond memories. He developed a love for carpentry and helped build several decks and fences in Transcona. He married Nancy Thoroski and enjoyed passing down his love of the outdoors and carpentry to his three children.
Fred also played in various sports leagues over the years including hockey with the Grinders and baseball on the team Freddie's Nightmare. He played shuffle board for many years as well as on the dart league Average Joe's. He was also an avid Toronto Maple Leaf's Fan and a Green Bay Packers fanatic.
He worked at CNR from 1978-2011 where he was a carman. He truly enjoyed his work and was the only known employee to make their own hours.
A celebration of life will be announced at a later date.
"The journey doesn't end here. Death is just another path, one that we all must take."