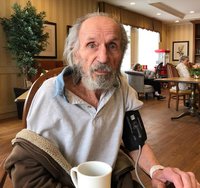 WALTER JOHN CHUDO
WALTER JOHN CHUDO
AUGUST 17, 1938 TO MARCH 16, 2021
Walter Chudo, aged 82, passed away at Seven Oaks Hospital after succumbing to Pneumonia and the
lingering effects of surviving COVID-19.
Walter was born in Winnipeg, MB to Jean and Andrew Chudo, the eldest of three children.
A proud North End resident his entire life, Dad graduated from Tec Voc High as a mechanic and began
operating Transport Towing and later Harvey's Mobile Transport, alongside his wife Bonnie. Together
they became parents to Allison, Barb, Andy and Nancy. Dad also had a special bond with his many feline
friends along the years, most recently his beloved Chaos.
After years of long haul towing and mobile transport, Dad quietly retired and lived a simple life on his
own. He spent time in his shop restoring classic cars, building race cars, and entertaining numerous
childhood friends while playing Cribbage and sharing happy memories of Dream Weaver drag racing in
Gimli, MB. He also enjoyed Jets and Bombers games on TV and always stayed up late for Letterman. His
adventurous side was apparent with many road trips, mostly around Manitoba and sometimes driving
West.
Dad was sadly predeceased by his brother John Chudo; his parents Jean and Andrew Chudo; his great
nephew Michael Chudo; his sister Susan Undiks; and a number of his close friends. He is survived by his
ex wife Bonnie Chudo; his children Allison Hanuschuk (Rod), Barb Cobb (Dallas), Andy Chudo, and Nancy
Kessler; his grandchildren Emily Hanuschuk and Morgan Kessler; nieces Marilyn Puglisi and Cynthia
Undiks; nephews Wally Chudo (Tracy), Ron Chudo, and William Undiks; and numerous great nieces and
nephews.
A kind thank-you to Dr. Collister and team, Third Floor, Unit 2, Seven Oaks Hospital for providing Dad
with comfort and reassurance in his final days, and to the Pharmacy team at Empire Drugs for their care
and compassion that spanned decades.
In lieu of flowers, please consider a donation of time or money to the Winnipeg Humane Society or a
charity of choice.
Cremation has taken place as per Dad's wishes and a family funeral is arranged as per COVID-19 restrictions.
Streaming of service can be viewed at Oneroomstreaming.com using the link on the left side (drop down menu if on mobile) or using the credentials below:
Event ID: CropoFSthomas
Password: EEXFDI