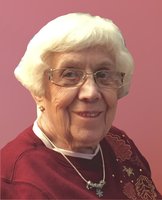 STEPHANIA JO LOPUCK
STEPHANIA JO LOPUCK
1923 - 2021
Our mother, Stephania Jo Lopuck, passed away peacefully on the afternoon of March 17, 2021 at her residence in Transcona after living a long and fulfilling life raising a family and succeeding in business, as well as contributing to her city and many organizations.
She is survived by sons Bill (Barbara Thom) and Tim, grandchildren Bryan Lopuck and Megan Thom (Gord), great-granddaughters Jasper Lily and Laine Wilding, whom she loved dearly, along with many nieces and nephews. She was predeceased by husband Stan, five sisters and two brothers.
Jo was born in 1923 in North Transcona to Nick and Anne Sushnyk, and grew up with her family in the East End, graduating from Central School. She left home for Toronto and met Winnipeg native William Bachynski, whom she married, and their son Bill was born shortly thereafter. After her husband died unexpectedly of medical complications, she returned to Transcona as a single parent where her parents assisted her in raising her son.
She obtained employment at Eaton's and soon after enrolled in the Angus School of Business where she excelled in business and secretarial courses to a degree that she was hired by Winnipeg Paint and Glass for office work. During this time, she met Stan Lopuck. They married and built a new home together.
Jo's career took off when a young manufacturer's agent hired her and they opened up an office on the twelfth floor of the Childs Building, Winnipeg's skyscraper at the time. With home and work life progressing, Jo's second son, Tim, was born. Family complete, she now dedicated herself to the expanding business, returning to Red River College for drafting and architectural courses, becoming an integral part of the company. She was asked to become a shareholder, thereby a company owner. She became a member of the Winnipeg Construction Association and was later the first woman elected to its Board of Directors. This position offered her the opportunity to travel Canada and meet many industrial and political leaders, including prime ministers. She was named an Honorary Board Member of the Association and attended its annual Christmas banquet until she was 95. Never one to stop learning, Jo received her Microsoft Office Certification when she was 80.
Jo was very political and put her hat in the ring to run as an MLA for the PC Party under Sterling Lyon in the 1981 Manitoba general election, at a time when not many women were politically active. She did not win the race in the NDP stronghold of Transcona, but remained proud of her effort. She had served on the Community Council and represented Transcona in support of Winnipeg's centennial, getting the opportunity to meet many fellow Manitobans. She worked during many elections as Returning Officer for her district.
Her awards for community service were numerous . When no one else volunteered, she would, including 12 years volunteering at St. Boniface Hospital, holding office at the Legion and receiving a meritorious award, receiving the City of Winnipeg Award from Mayor Juba, President of St. Michaels Church women's league and procurer of the cheese and potatoes needed for the hundreds of dozens of perogies made biweekly and lottery seller at church bingos. She missed playing cribbage and the other activities with people in her building this last year.
Her creativity and exuberance were felt by those who worked with her and she loved being in the middle of things. She drove to her cottage at Lester Beach on weekends until she was 96 and maintained a valid driver's license until recently. She loved to fish.
We will deeply miss her thoughtfulness and generosity.
Covid restrictions are in effect. Private funeral will take place.
Flowers gratefully declined.