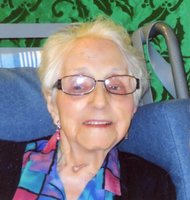 GRACE EMILY McARTHUR
GRACE EMILY McARTHUR
NEE POLDEN
On February 18, 2021 Grace passed away peacefully at the age of 107. She was predeceased by her husband Danny in 1979 and by her brothers Fred (Helena) Alfred (Maud) Bill (Emily) George (Joyce) and sisters Alice (Joseph) and Ellen (Aubrey).
Grace grew up in the West End, the youngest of 7 siblings including her twin brother George. She attended Wellington School and later Principal Sparling. She worked at several jobs until she married her husband Danny in 1955.
Grace was very close to her family in Winnipeg. She loved travelling and took many trips with her sister Ellen, including her favorite, Las Vegas. She was a big Blue Bombers fan and attended games with her sister Alice and later with her friend Lillian.
Grace is survived by her twin brother's children, Beverley (Ted), Gail (Mike) and George (Mavis) as well as many other nieces, great nieces and great nephews.
The family would like to extend our gratitude to the staff at Lions Personal Care Centre, especially Patrick, for their kind and compassionate care.
A private graveside service has taken place. A family memorial will be held at a later date.