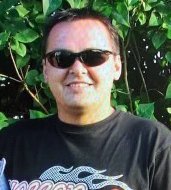 GREGORY JAMES GARTNER
GREGORY JAMES GARTNER
1976-2021
We are saddened to have to announce the sudden passing of Greg on Sunday January 31,2021.
Greg is survived by his loving wife (of 26 years) Kari-Lynn, son Shade, daughters Shawna-Lynn and Kaylyn; grandchildren Kingsley and Aveah-Lynn,
brother Ian, his parents Harold and Debbie, as well as many aunts, uncles, nieces, nephews, and good friends.
Greg was predeceased by his brother Cory.
Greg was a very kind, and generous man, going above and beyond to always be there for his friends and family, especially his grandchildren.
He always did more than expected of him, all the time, for anyone in need.
He was more than his generosity and humor, he was a husband, dad, an amazing grandfather and a good friend to all.
The love he had for his grandchildren brought out the absolute best in him and his character. Greg always had time for Kingsley and Aveah.
and he made them aware that they were very special to him. Aveah and King will hold on to their memories of Papa, the knowledge he instilled in them and
all the fun times they had with him. Time is precious and Papa will always be in the sky when they look up.
Greg loved his pets, and he had a huge passion for Country Music. Especially for Eric Church. He enjoyed, and looked forward to attending his favorite event at Country Fest, in Dauphin every year.
His sense of humor was larger than life. We will miss that humor, and his ability to make us laugh and have a good time together.
Greg will leave so many fond and precious memories behind with us all as we grieve the loss of such a significant man in our lives.
Rest in Peace Greg, you're really going to be missed. We love you very much.
Due to Covid restrictions, a celebration of life will be held at a later date, when it is safe to do so.
If so desired, donations in Greg's honor can be made to the Heart and Stroke Foundation or the Humane Society.