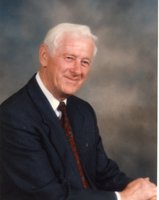 WALTER "WALLY" KUSHKA
WALTER KUSHKA
With sadness and love, we cherish the beautiful memory of Walter, dearly loved husband, father and grandfather, who entered into eternal rest on February 2, 2021. His sons were at his side when he passed into the arms of the Lord.
Dad was predeceased by his parents Andrew and Olga, wife Susan, sister Violet, brother-in-law Walter Klym, brother-in-law Bill Saites and two siblings at birth.
He will be missed by his sons Brian, Chris (Mary) and grandsons Stefan and Rylan whom he dearly loved. He will also be missed by his nephew and nieces; Deno (Margo), Melody, Kathy, Kelly (Tony) and Sandra (Omar) and their families, family in the Ukraine including Anna lovingly known as Nusia, Sophia, Stefan, Miroslavka and Volodymer. He will also be missed by his many friends.
Walter was born February 16, 1931 in the town of Kovban in the Western Ukraine. He came to Canada with his parents and sister Violet in 1936 aboard the US Batory. They settled in Poplar Park MB (near Libau, MB) before moving to Winnipeg in 1942.
Dad graduated from St John's High School. He then attended the University of Manitoba while working at the family grocery store on Cambridge Street. He started his career as an electrical apprentice with Winnipeg Electric (Winnipeg Hydro) and continued his career as a Technical Assistant in Electrical Maintenance with Manitoba Hydro where he retired with 35 years of service.
He was a kind hearted and gentle spirited man who had a thoughtful word, warm smile and twinkle in his eye for everyone he met.
Walter married Susan Prosolowski in 1956 who fell for his charm. They were married for 55 and a half years when mom passed away in 2012.
Dad was a devoted, caring and loving husband, father and grandfather. Family was his first priority.
Mom and Dad took their two sons on many family vacations with the highlights being trips to Disneyland, the Canadian Rockies, the Black Hills and Las Vegas.
After he retired from Manitoba Hydro, Dad and Mom made several trips to each of Hawaii, California and Las Vegas. They travelled across Canada and the United States and made two trips to the Western Ukraine to visit family. They never forgot about their family in the Ukraine and made it a point to assist them when needed.
When Mom got sick, he never missed a day visiting her in the hospital.
Dad also had his health problems but that did not stop him from attending each of his grandson's curling, hockey and soccer games. He enjoyed every minute he spent with them.
Dad was also a big fan of the Jets and Blue Bombers. He attended several games with family and rarely missed a game on tv.
Walter was a "jack of all trades". He was a perfectionist. Whether it was work on his home or his boy's homes, no job was too big for him. He also helped Mom in the kitchen making cabbage rolls and perogies and helped her with their beautiful flower and vegetable gardens.
Walter was a devout parishioner of Saint Nicholas Ukrainian Catholic Church. He was a member of the Knights of Columbus Father Filipow Council.
The family thanks the doctors, nurses and health aides at Saint Boniface and Seven Oaks Hospitals. Special thanks to family Doctors Terry Babick and Andrea Babick for keeping dad healthy over the years.
Private prayers will take place on Monday, February 8 at 7:00 p.m. and a Private Divine Liturgy will be celebrated on Tuesday, February 9 at 10:00 a.m. at St. Nicholas Ukrainian Catholic Church, with a Basilian Father officiating at each. Interment to follow in Holy Family Cemetery. Prayers will be streamed live at cropo.com. The Divine Liturgy will be uploaded at cropo.com a few days after the service.
In lieu of flowers, donations can be made to the St. Nicholas Ukrainian Catholic Church Building Maintenance Fund or CancerCare Manitoba.
Video Tribute
https://www.youtube.com/watch?v=YsOUBVGhvKE
Vichnaya Pamyat