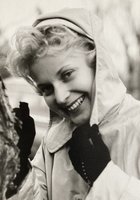 ROBERTA EDITH JANETTE DRIVER
ROBERTA (BOBBY) EDITH JANETTE DRIVER
(NEE CRAWFORD)
Peacefully, Roberta passed on Monday February 1, 2021 in Winnipeg at the age of 84 years
She is predeceased by her husband Neale, mother Mabel (Amelia), father Albert, siblings Lucinda, Mabel, Alberta, Helen, Jacqueline, and Grant
Roberta is survived by children Mitchell (Marie), Paul and Angela (Max); Grandchildren Alexa, Devon, Ryan, Graham, Luke, Noah, Andrew, and Leah; step-grandchildren Ryan, Devin (Jen) and step great grandchild Henry.
Bobby grew up in the North End of Winnipeg on Bannerman Avenue. She had various jobs over the years most notably at Westinghouse, The Bay and Safeway where she made many wonderful lifelong friends. She also made numerous friends through her participation in aquasize groups, as well as through her involvement with Good Neighbours.
Mom especially cherished her neighbours on Claudia Place. And the family would like to thank them all for watching over her since Neale's passing.
She loved travelling with Neale as well as on her own. Some highlights of this include her trips to the British Isles, Nova Scotia and Costa Rica. She enjoyed walking in nature on the trails at Bird's Hill Park and Kildonan Park, as well as gardening in her backyard.
Nana enjoyed being part of her loved ones lives. For example she supported her grandchildren by attending many of their activities, such as hockey, baseball, soccer, swimming, music recitals, etc.
The family would like to give a special thank you to Maryann Driver for all her support, help and friendship through the years. They would also like to thank Dr. Lage and the staff at Concordia Hospital for everything.
In lieu of card and flowers, Roberta`s wish is that memorial donations be made to a charity of your choice.