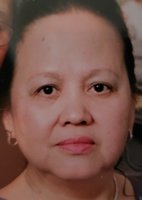 FELICISIMA MIRANDA CERVANTES
It is with great sadness we announce the passing of Felicisima Miranda Cervantes.
She was born in Baccor, Cavite, Philippines where she taught high school mathematics. She immigrated to Winnipeg, Manitoba, Canada where she met her husband Benjamin "Bennie" Cervantes. She eventually became a project accountant for 3 major property management companies. She retired but kept herself busy with her granddaughter Olivia. She was diagnosed in December 2020 with advanced stage cancer.
She passed away peacefully on January 4, 2021, surrounded by her beloved husband Bennie and son Benjie at St Boniface hospital at age 70. She was a light in all our lives. She was beautiful, bright, warm, caring, smart, and helped guide many of us through our lives. We may not see a light as radiant as hers on this Earth. But I hope to see her light again in heaven.