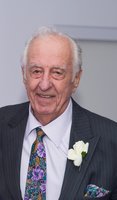 WILLIAM (BILL) PRYSIZNEY
WILLIAM (BILL) PRYSIZNEY
It is with heartfelt sadness that we announce the peaceful passing of William (Bill) Prysizney on the morning of January 4, 2021 at the Grace Hospital.
He was born October 24, 1927 in the R.M. of Kruezburg (Komarno area), Manitoba. On June 5, 1954, he married Stella Popadynetz.
He will be lovingly remembered by his daughter Virginia Weretyk (John); son Garry Prysizney (Debi); grandchildren Adam, Jason (Denise) and Jennifer Weretyk; great-granddaughter Arianna Weretyk; sister Jean Beznoski; sisters-in-law Helen Zaluski and Adeline Popadynetz; brother-in-law Norman Popadynetz (Mary), and numerous nieces, nephews and friends. He was predeceased by his parents Anthony and Wasylena Prysizney (nee Bereziuk); wife Stella; brothers Walter and Alex; and sisters Anne Barbolak, and Stella Winzinowich (who sadly passed away on January 5, 2021).
He was employed as a Winnipeg Transit bus driver for over 31 yrs. He loved to hunt, fish, golf and ride his snowmobile. He would never get tired of telling his hunting and fishing tales. He was a top-notched caring father, grandfather and great-grandfather and enjoyed the company of others in his presence (especially with Mick and Bentley). He was so kind and gentle and was proud to have a record of 13 loving Godchildren. He was one to look up to and always there for you.
The family regrets that due to COVID-19 restrictions, there will be a private viewing on Saturday, January 16, 2021 with interment at St. Stephen's Ukrainian Orthodox Church, Pleasant Home, Manitoba with The Rev. Fr. Evan Maximiuk officiating.
In lieu of flowers, donations may be made to a charity of your choice.
Vichnaya Pamyat Eternal Memory