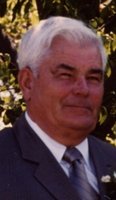 JAROSLAW BALEWICZ
JAROSLAW (JERRY) BALEWICZ
Jaroslaw was born on March 3, 1935 and later met and married the love of his life, Maria, on July 14, 1956. In 1958 they moved to Canada with their daughter Alicja to begin their new life where they later welcomed their son Richard.
Jerry worked for the City of Winnipeg for over 30 years - starting out as a labourer and working his way up the ranks to Supervisor of several construction crews. He was an avid hunter and fisherman and enjoyed his summers at the cottage in Traverse Bay, Manitoba with his family. The three Amigos (grandpa and his loving grandsons David and Kevin) would spend hours riding their ATV's in the sandpits and out in the forest picking blueberries and wild mushrooms for grandma to make blueberry perogies for supper. Jerry's love of hunting and fishing lead to his new found hobby of Taxidermy. Grandpa proudly stuffed and mounted each and every fish his grandsons caught.
During the winter months, Jaroslaw and Maria would go south to the Rio Grande Valley area of Texas where they enjoyed their winter home at the Bit-O-Heaven RV Park in Donna, Texas. There, they developed many new friendships with fellow snowbirds from across Canada and the US that lasted over 25 years.
Dad had a heart of gold and was known for his quick wit, his infectious smile and his kind and compassionate spirit. He has touched the lives of many and will be eternally remembered by all.
In lieu of flowers, please make a donation to the Heart & Stroke Foundation.
Rosary will be said on Thursday December 5 at 9:30 a.m. with Mass of Christian Burial to follow at 10:00 a.m. at Holy Ghost Roman Catholic Church. Interment to follow in Holy Ghost Cemetery, 4387 Main Street.