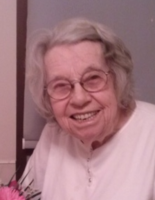 MAGGIE ANDRUSHKO
MAGGIE ANDRUSHKO
February 22, 1917-November 21, 2019


After a long life of 102 years, Maggie Andrushko passed away on November 21, 2019.

Maggie's memory will be cherished by her son Norman (Gloria), son Donald (Marion), daughter Bernice (Charlie); eight grandchildren; 25 great-grandchildren; 4 great-great grandchildren; and sisters Anne Lisowick and Mary Kowalchuk. She was predeceased by her husband of 56 years, Alex Andrushko, in 1995, her son Leonard Andrushko in 2019, and her parents.

Maggie was born in Komarno, Manitoba but lived most of her life in Winnipeg. She enjoyed gardening, playing bingo at the Chalmers Community Club, and, in her words, "hanging out at the Bay". She was well known for her smile and infectious laugh at Fred Douglas Lodge where she lived for several years.

Funeral Service will be held on Monday, December 2, 2019, at 1:00 p.m. at Cropo Funeral Chapel, 1442 Main Street with Fr. Isadore Dziadyk OSBM.


VICHNAYA PAM'YAT