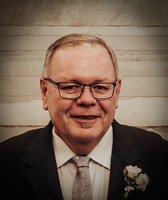 WILLIAM (BILL) DOMBEK
WILLIAM (BILL) ROY RICHARD DOMBEK
William (Bill) Roy Richard Dombek passed away peacefully on November 13th 2019, surrounded by his wife Claudette, children, Andrea (Tyler), Michelle (Christian), Jacob and loved ones while listening to the music he loved.
Bill was born to parents Wanda & Michael Dombek on November 21, 1957 in Winnipeg, MB. He grew up in Winnipeg's North End along with siblings Elicce (Brad), Maria and Wanda. Bill was an avid golfer who retired after a prolific career in the automotive refinishing industry. He and Claudette were lucky enough to enjoy 11 months of retirement filled with golf, tai-chi and spending time with his newly born granddaughter, Annabella.
To sum Bill up, he had an unbelievable passion to live and learn. Whether it was succeeding in his career after graduation at Red River College or raising a beautiful family of three children all while obtaining a black belt in tai chi and gung fu and creating a home sound system that would impress any audiophile. He loved to entertain family and friends in his backyard oasis where he always served up delicious BBQ. He always looked forward to golfing holidays with his sweetie, whether it be Buffalo Point, Hecla, or down south. The two would always mark their balls as "ME" (Bill) and "MINE" (Claudette). In his final season, he was honoured to fulfil a long time wish of being course Marshall at his home away from home: Kildonan Park Golf Course. Bill was an amazing soul who has made an impact on all those who knew him. He will be greatly missed by all whose life he touched.
We would like to thank all loved ones who have sent their well wishes, shared stories and filled our hearts and fridges. We would also like to thank the staff at St. Boniface Hospital for their outstanding care.
A Celebration of Life will be held on Bill's 62nd birthday, Thursday, November 21, at Cropo Funeral Chapel, 1442 Main St. The event will be held from 2:00 p.m. – 5:00 p.m.
In lieu of flowers, please make a donation to the Winnipeg Humane Society or a Cancer Research foundation of your choice.