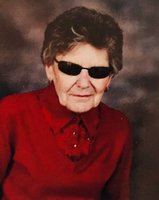 ALINE THERESE McVICAR
ALINE THERESE McVICAR
Our mother, Aline, passed away at 93 years of age, peacefully on November 3rd, 2019. Aline is survived by her 4 children, Richard, Brian, Paulette, and Carol. She was married to her husband, Alan, for 34 years. Aline had 4 brothers and 4 sisters. Lucien, Eugene, Gerard, and Paul; Evelyne and Leonne, and 2 surviving sisters, Claire and Therese.
She was blessed with 6 grandchildren and 8 great grandchildren. She loved keeping in touch with her grandchildren and great grandchildren's sports activities, particularly hockey, which she was passionate about.
Aline will be laid to rest next to her beloved husband in Otterburn in early spring or fall with an intimate family gathering. She, along with her strength, love, and caring persona will be deeply missed and fondly remembered.
Donations, in lieu of flowers, in her memory can be made to CNIB, 1080 Portage Avenue, R3G 3M3. www.cnib.ca