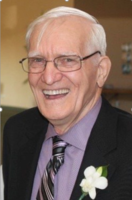 HENRY ISAAC THIESSEN
HENRY ISAAC THIESSEN
After having made a few quick trips to the pearly gates in recent years and having a peek at the mansion under construction, Henry (Harry) Isaac Thiessen was welcomed to his heavenly home on Sunday, November 03, 2019, with the wonderful words of his Lord and Savior, "Well done, good and faithful servant".
He was a devoted and faithful husband, a wonderful dad and father-in-law and a proud and loving grandfather and great-grandfather, who leaves a huge void in our hearts and lives, but we look forward to being together again in eternity.
Harry was born in Rosenfeld, Manitoba, on April 4, 1928. He leaves his wife of 63 years, Beverly, sister Helen, daughters Sherry (Ken) King, Patricia (Marv) Koop and son James (Susie) Thiessen, 11 grandchildren and 18 great-grandchildren and many nieces and nephews.
He was predeceased by foster son Rick Sherman and 8 brothers and sisters.



Harry kept close track of all of his family, and was especially focused on where his grandchildren were and what they were doing.  
He was so very proud of each one of them and their accomplishments.  He enjoyed reading the Free Press every morning over an 
early breakfast and watching the evening news; not much happened in the city or around the world that he wasn't interested in.   
Harry was a self taught jack of all trades and Master of some, including being one of the world's best Gradall operators, and an expert 
at all aspects of home and garden landscaping, water and sewer installation and maintenance, woodworking, firewood production, 
flower and vegetable gardening, strawberry picking, jam making and 'tarp' baking.  Harry was always ready to lend a hand or a timely 
word of helpful advice, to family, neighbors and friends, the church and to anyone who sat at a green light for more than half a second, 
or was driving a bit erratically in the lane in front of him. 



Harry was a great colleague and co-worker, at BACM, the City of Winnipeg, Springhill Lumber and at the Rural Municipality of Springfield, until his retirement. Harry was a long time member of East Kildonan Baptist Church, and could always be counted upon to lend a straight eye, honest words and strong hands for whatever work needed to be done there. He rarely had more than a few dollars in his wallet, and whatever he had, he usually used to bring some joy (and donuts) into the lives of those around him, rather than on himself. Spring and summer evenings, he loved working in his garden, taking care of the lawn and especially investing in his roses; fall was for cutting firewood and long road trips with Bev and their trailer, bringing back produce for pies and jam making from the orchards they loved to visit and hard wood off-cuts from the sawmills and lumber yards along the backroads that only he knew how to find.
As mom and dad got older, the trailer was getting to be too much work to pull around the country, so they set up camp in Birds Hill Park or in Stonewall and hosted fabulous family times around the campfire. Winter time was for woodworking in the basement, lovingly producing rolling pins and bowls on his lathe, or baskets, clocks, picture frames or furniture, including wonderful swinging cradles for his grandchildren. Harry loved a good joke, the listening and the telling, with a wonderful twinkle in his eye and a real appreciation for a story that made him laugh. He is already greatly missed, by his family, friends and neighbors. What a wonderful man, a great gift from God to all who had the privilege of knowing him, and especially to those who called him husband, dad and grandpa.
The celebration of life service will be at Centerpoint Church, 700 Watt Street on Thursday, November 7, 2019 at 1:00 p.m. with refreshments to follow downstairs.
A special word of thanks to the nurses and doctor of Ward GB2 CAU in Health Sciences Center, for the wonderful care provided to our dad and the family this past week.
In lieu of flowers, donations can be made to the Bethania Mennonite Memorial Foundation. https://bethania.ca/bethania-mennonite-memorial-foundation/