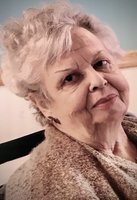 DENA KATHLEEN GNUTEL
DENA KATHLEEN GNUTEL
NEE MYLUK
Dena Kathleen Gnutel nee Myluk, 85, passed with hope and faith on October 23, 2019.
Left to cherish her memory is her only child Mark and his wife Theresa, Cousins Rozin and Kathy Iwanicki, Garry Dovzuk and numerous Brothers and Sisters in law, nieces, nephews and many friends.
Dena was predeceased by her husband Bill (William) Gnutel in 2017 and father and mother Alec and Kalia Myluk and father and mother-in-law Joseph and Michalena Gnutel.
Dena was born June 27, 1934 and raised in Transcona. She attended Central school and after graduation she trained as a comptometer operator. She was hired by the CNR where she worked in the depot and then in the Transcona office for over 32 years, retiring in 1992.
She met her husband, Bill, at a reception and they were married in 1956 at St. Michael Ukrainian Catholic Church. In 1963, their only son Mark was born and they continued their residency in Transcona until their health needs moved them to the Holy Family Towers and then to the attached Holy Family Home facility.
Dena was an avid crafter, decorator, knitter, crocheter, fashionista etc. Dena was happiest making creative things. She was a human Pinterest before Pinterest existed and a dessert queen extraordinaire. Her desserts were always special; to say she had a sweet tooth was to put it mildly. Even at Holy Family Home her room and clothes were reflective of her eye for color, fashion and proper placement, she loved to help create decorations and crafts for the main dining room for holidays and special occasions.
Dena and Bill enjoyed their life together; they built a cottage at Hillside Beach in 1984 and enjoyed many summers there with their inherited canine Dickens. Family is important and in 1994 she welcomed Theresa as her daughter-in-law. Cherished memories also include Fr. Mark's ordination to the priesthood, many social events, trips and catching up with friends. She loved emailing, surfing the web and playing games on the IPad. She loved using a google mini to control her room lights and to keep up with the news and weather.
Her faith allowed the Lord to guide Dena throughout her life long journey and helped ease her burdens. She was an active member of St. Michael Ukrainian Catholic Church, the UCWLC, and Holy Family Home Ladies Auxiliary. She also attended many of Fr. Mark's parishes with active enthusiasm and support. Her trust in God was especially abundant in her perseverance these last months with her many health issues. The family offers an abundance of thanks and gratitude to the many family, friends and clergy who have offered their support and prayers. The Family thank the Sister Servants of Mary Immaculate, and express special gratitude to Dr. Andrea Babick, staff members, Linda (social work), Magda (recreation), Jeanette & Agnes (health Aides) and all the other wonderful staff, medical professionals and administers at Holy Family Home for their loving ministry, friendship, care and comfort of Dena.
Services will take place at St. Michael Ukrainian Catholic Church, 100 Yale Ave. Parastas Prayers will be held on Monday, October 28 at 7:00 p.m. and The Divine Liturgy celebrated on Tuesday, October 29 at 10:00 a.m. Interment will follow in Green Acres Memorial Gardens Four Apostles.
Officiants are The Most Reverend Metropolitan Emeritus Stefan Soroka and Very Rev. Fr. Mark Gnutel, Rev. Fr. Alan Wizinsky, Protodeacon Stefan Tyrawski, Seminarian Jay Korban and clergy of the Archeparchy.
Pallbearers are: Jim Omeniuk Don Gulchak, David Gnutel, Alec Jarema, Zane Zallis and Greg Swintak
In lieu of flowers, donations can be made in Dena's memory to St. Michael Ukrainian Catholic Church or to Holy Family Home recreational program.