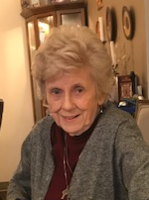 EMILY MAY MIKOLAJEWSKI
EMILY MAY MIKOLAJEWSKI
April 6, 1933- October 6, 2019
On Sunday, October 6, 2019, Emily took her final breath in her home in Winnipeg at age 86.
Born to William and Margaret Williams on April 6, 1933 in Porthmadog, North Wales.
Emily's early education happened in Ysgol Eifionydd, North Wales. She entered the nursing profession in Warwick General Hospital, England; becoming a registered nurse in 1954. Emily received her midwifery training in Dudley Road Hospital, Birmingham and in Woking Maternity Hospital, Surrey.
She became a sister of a Surgical Ward in Redhill County Hospital, Surrey. Here she met her future husband Dr. Jerzy Mikolajewski. They immigrated to Canada in 1957 and raised a family of four children- Janina, Andrew, Helen and Owen.
Emily became involved with catholic education first at the Convent of the Sacred Heart and later served a term as President of the St. Mary's Academy Mothers Guild. She was also a volunteer counselor at Pregnancy Distress for a few years.
She loved Tai Chi and was an instructor of Taoist Tai Chi for several years. Her favourite pastimes were pottery, cooking, walking and tennis.
In the last few years, she was a volunteer at Holy Names House of Peace and Lector at St. Mary's Cathedral and St. Ignatius Church.
She was pre-deceased by her parents, her beloved husband Jurek (Jerzy), and her brother Gwyn. She leaves to mourn her passing her children Janina Mikolajewski, Owen Mikalajewski, Andrew Mikolajewski (Cathy), Helen Holbrook (Paul), sister's Blodwen Beer, Mary Williams. Grandchildren Mark and Sean and her cousins, nieces, nephews and good friends.
She lived, laughed, loved and was loved. She cherished her family and friends and every person she met on her 86-year journey-they were all a gift to her and she was a gift to all of us. She will be remembered for that laugh, her wit, her passion for life, and her love of animals and nature.
Mass of Christian Burial will be celebrated at St. Ignatius Church, 255 Stafford Street, Wednesday, October 16, 2019 at 11:00 a.m. Emily will be laid to rest at the Mausoleum of the Queen of Heaven, Assumption Cemetery, 3990 Portage Avenue.
In lieu of flowers, donations can be made to Siloam Mission 300 Princess Street, Holy Names House of Peace 211 Edmonton Street or an Animal Shelter of your choice.
"All that I am, or hope to be, I owe to my angel mother" Abraham Lincoln