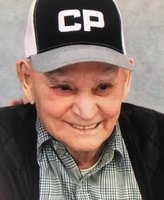 JACK KUCZEK
JACK KUCZEK
December 7, 1931- October 2, 2019
Having led a very enriched life, Jack passed away at Concordia Personal Care Home at the age of 87.
Jack is survived by his loving wife Helen of 66 years; his children Gerry, Lloyd (Shawn), Barb (Tim), Wayne (Pam), Rick (Amelia); 9 grandchildren (Jacquie, Derek, Tierra, Ariana, Darcy, Ryan, Dylan, Dexter, and Ryland) and 3 great grandchildren (Anna, Zack, Nora); his sisters Shirley (Ed) and Susan (Lloyd). He was predeceased by his parents Nick Kuczek and Minnie (Warywoda).
Jack was born and educated in Cloverleaf, MB. On October 30, 1952 he married his sweetheart Helen who was raised on a nearby farm.
His career with Canadian Pacific Railway (39 years) took him and his family across many towns in Manitoba and Ontario. Jack remained an employee of the Railway until his retirement in 1988. He never missed a day of work except for a period due to a serious work-related accident. He was legendary; known for his tenacity, fearlessness, work ethic, outspokenness and ability to get the job done.
Jack always took pride in his home and his yard which was impeccable. He was an avid gardener taking special pride in his tomato plants. He also enjoyed fishing, hunting, travelling and along with Helen in his retirement going on casino bus tours.
Among all else, Jack especially enjoyed spending time with family and socializing with friends. His front door was always open for family and friends to drop in unannounced for a visit, a bite to eat, coffee or a drink.
The family thanks the staff at Concordia Personal Care Home for all the wonderful care and attention given to Dad.
Mass of Christian Burial will be celebrated at St. Mary Roman Catholic Church, 530 Atlantic Avenue, Beausejour, MB at 12:00 noon on Monday, October 7.