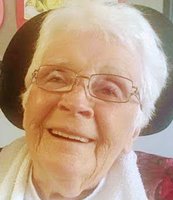 CATHERINE HARRISON
CATHY HARRISON
Cathy passed away peacefully on September 4, 2019 at age 84.
She will be lovingly remembered by her husband, "Johnny" of 64 years, and their children, Kathy, Frank (Lorna), Butch, Michael, Mark (Pam) and Sean (Vivian). She also will be sadly missed by her beloved sister, Betty (Steve), brother Hughie, and many nieces and nephews in both Scotland and Canada; as well as many lifelong friends.
Cathy was predeceased by her parents and sisters "Mamie" and "Bridie".
Funeral Mass will be celebrated on Friday, September 20, 2019 at 10:00 a.m. at St. Anthony of Padua Catholic Church, 250 Burrin Avenue, Winnipeg. Cathy will be interred at a later date in Scotland.