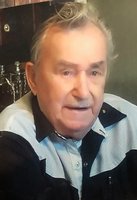 ANTONY (TONY) BASAROWICH
ANTONY (TONY) BASAROWICH
January 13, 1932 – September 5, 2019
Antony Frank Basarowich was born January 13, 1932 in Elma, Manitoba to Michael and Helen Basarowich. He had two older brothers and a younger sister.
Times were tough and I believe this contributed so much to who my Dad was. He met his to be wife in the early fifties and though they faced many significant trials, went on to raise six children.
Antony worked many jobs till eventually making a career with the City of Winnipeg where he retired as a Foreman in the Parks and Recreation Department.
Through his life Antony made many friends though time marched on for many of them and now for him as well.
Antony had a huge heart and gave freely as he was able to. His capacity to love and devotion to family and dear friends never wavered even as his light grew dimmer.
Sadly he is no longer with us in body but does occupy a special place in our hearts and memories.
If you wish to share a memory of something meaningful or humorous as Antony did enjoy a joke, please so do casually at end of the eulogy
You are invited to bring a flower, to be displayed at the service, for the urn display and graveside A memorial service will be held on Thursday, September 12, at 1:00 p.m. at Cropo Funeral Chapel, 1442 Main Street. Antony will be laid to rest alongside Rosalee in Brookside Cemetery.
He was predeceased by Rosalee, his loving wife of 35 years, his companion of 17 years Rose Anneck, three daughters, Lorna, Judith, and Patricia.
He is survived by his companion Elizabeth Kith, daughters Donalee and Lori, sons Michael, Donavin (Jim) and Randall, numerous grand and great-grandchildren.
A very heartfelt thanks to the staff of Health Sciences Centre Emergency and nursing care staff and special thanks for the care and patience afforded to my Dad by the Seven Oaks Hospital staff.
VICHNAYA PAMYAT