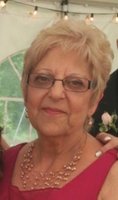 MERLE SARBIT
MERLE SARBIT
Sometimes it's hard to say goodbye to someone we love. We did not want to say goodbye to Merle this soon. However, cancer took over her body. After a courageous battle she became palliative and passed away at home on September 2, 2019 with her loving family by her side. We extend a special thank you to Dr.Fatoye and the wonderful staff at Seven Oaks Oncology, her palliative team and our angel Kimberly.
Those left to cherish her memory are: her daughter Megan (Peter), her adorable grandsons Peter (PS3) and Carter Slobodian, her husband of 36 years Sam Czemerys, her brother and sister in law Roman and Patti Czemerys, her sister and best friend Teresa (Greg) and her brothers Joel (Allen) and Sam (Claudia). Along with many nieces and nephews she was very close with and loved very much. She was predeceased by her baba Mary Glass, parents Nathan and Rose Sarbit, sister Karen Avery (Jerome).
Merle was a caregiver who was loved by all who met her. She kept in touch with many childhood friends, still close to this day. Most of her free time was spent shopping with her "Golden girls" Teresa and Trisha- they were known as the 3 musketeers. People gravitated towards Merle's calm and caring nature. She was known as a second mom to many of Megan's friends. Merle had a great sense of humor, never judged anyone and always lent an ear or a shoulder when needed.
Merle graduated from St. Johns High School and from there she chose professions where she could make a difference in the lives of others. She worked at Aleph Bet Daycare, owned a store called Second to None, and managed a house at DASCH where she supported ladies to live independently who she loved like they were her own. She was a lifelong learner who took many courses to upgrade her skills.
She met her husband Sam when he was her volleyball coach in grade 8 at Luxton School. They connected again later in life and have been inseparable ever since. Sam admired Merle for the wonderful qualities she had- exemplary wife, mother and grandmother, great cook, thrifty shopper, and a kind and generous woman with a heart of gold. They created a beautiful life together and made memories that will never be forgotten.
In honouring Merle's wishes a celebration of life will be held on Sunday, September 8, 2019 from 1:00-3:00 p.m. at Club 200, 190 Garry Street.
Donations can be made to Cancer Care Manitoba.