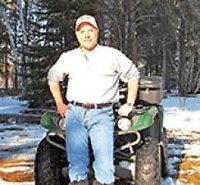 TERENCE NOEL SERKES
TERENCE NOEL SERKES
December 25, 1964 - July 31, 2019
Terry was born on Christmas Day in 1964. For the next 54 years his family enjoyed his quick quips, loyalty, love of family and most of all his soft hearted nature which he hid behind a gruff exterior.
He worked in Edmonton, Kelowna and finally Winnipeg. He thoroughly enjoyed his time at his last job with Life Touch.
He loved his time at the cottage in Grand Beach where he took great pride in keeping the yard "just so".
He was very passionate about US and Canadian politics. He loved to debunk the fake news, and give us the facts to educate us all.
He enjoyed his new Trailhawk Jeep, ATVing and all types of cooking machines and various gadgets from the Shopping Channels.
Thanks to our neighbours, Jody and Bill, Ron and Marilyn, and Rick, who were there for him at the critical time in his life.
He was predeceased by his brother Randy in 2009 who he missed dearly.
He is survived by his mom and dad Pearl and Rudy; sister Cindy (Doug); brother Rob (Cor); sister-in-law Kim; nephews, Travis (Leslie) and Curtis; and nieces, Jessica and Kaitlyn.
Cremation has taken place and according to Terry's wishes there will be no service.
So tonight please raise a glass of beer in Terry's honour (preferably the brand that came with a free hat, t-shirt or bag).
In lieu of flowers, donations can be made to the Heart & Stroke Foundation of Manitoba, or honour him by voting Conservative in the fall election.