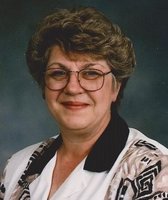 GEORGINA IRIS ZUCHOWICZ
GEORGINA IRIS ZUCHOWICZ
(NEE KORPESHO)
September 3, 1943 – July 2, 2019
Georgina is survived by her husband of 52 years, Ted, son Christopher (Charlene), grandson Samuel, step-brother Greg Halabut (Barb). She was predeceased by her father George (1950), by stepfather Harry Halabut (1974) and mother Doris Halabut (1986).
She graduated from Sisler High and went on to work as a paralegal secretary for 15 years. In 1973, she semi-retired when her son was born. Then in 1991 she began work as the parish secretary for St. Anne Ukrainian Catholic Church, where she had the privilege of working for Bishop Stefan Soroka, Post Archbishop Metropolitan of Philadelphia. In 2000 she became a Programs Officer for Agriculture Canada, retiring in 2008.
She was very proud of her Ukrainian culture and heritage. She was always willing to lend a helping hand to family and friends. Also, she enjoyed camping, travelling throughout Canada, USA, and Mexico with a number of trips to her favorite, Hawaii.
Funeral mass will be held on July 10, 2019 at 10:30 a.m., with viewing one hour prior to service, at St. Anne Ukrainian Catholic Church, 35 Marcie Street (at Gilmore Avenue). Interment to follow at Glen Eden Cemetery.
In keeping with her love of children, in lieu of flowers, donations may be made to the Children's Hospital Foundation of Manitoba, CE501 540 William Ave., or to Immaculate Heart of Mary School Building Fund, 650 Flora Ave.
VICHNAYA PAMYAT!