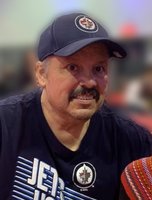 TERRY HOGUE
TERRY HOGUE
Terry passed away peacefully on June 28, 2019, at the age of 57. During his hospital stay, family never left his side. Terry was a dedicated, loving father, grandfather, brother, uncle, and friend. Terri-Lynn his devoted, loving daughter, her fiancé James, his grandchildren, Justin, Peyton, Darius, and Savanna. They were his life, pride, and joy. Also, his brothers and sisters Sandra, Susie (Allen), Irene, Candy, Judy (Henry), Larry (Edna), Wayne, Danny (Marlene), Tracey (Barry), and Debbie. His many nieces and nephews and his two special nephews, little Barry and Kevin. Little Barry was always willing to do anything to help his uncle. Kevin, who not only was his nephew, but also one of his special friends, as well as Greg and Andy, who all spent a lot of time together. His close friend and companion, Charlene who meant a lot to him. Terry was loved by all his family and friends.
One of Terry's all-time favorite past- times was cheering on the Winnipeg Jets and the Blue Bombers. He loved the outdoors and feeding and watching all the deer in the Charleswood area, as well as just driving in his car, listening to his favorite music.
His nightmare is finally over, and he is now with Mom, Dad, Victor, his brother-in-law Bob, and his beloved cat Ginny.
Terry was a huge Winnipeg Jets and Winnipeg Blue Bomber fan. We encourage anyone attending the funeral service to wear their Jets or Bomber attire.
The funeral service will be held at Cropo Funeral Chapel, 1442 Main St at 10 am on Thursday, July 4 2019.