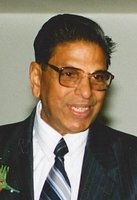 SOOKBEN LALL
SOOKBEN LALL
SEPTEMBER 22, 1933 – JUNE 8, 2019
It is with great sorrow we the family of Sookben (Ben) Lall announce his passing.
He was predeceased by father Joseph, mother Mary, sisters Nelly, Irene, Rita, Annabelle, brother Gerald, son Patrick, nephew Junior, niece Maureen
He is survived by his loving and faithful wife Kathleen (K), children Eva(Paul), Kenrick(Naza), Evelyn(Tom)
Grandchildren Dwayne(Grace), Kevin (Sharon), Nicole(Chris), Jackie(Matteo), Danielle(Dan), Jeremy, Corey(Magda), Matthew(Kasia), Chris(Melissa)
Great grandchildren Adam, Julia, Sadie, Nico and Weston. He will be missed by his nieces, nephews and many close friends, neighbours and extended family.
Our dad came to Canada from Guyana in 1970 and his family followed in 1971. He was an exceptional man and gave love unconditionally. He worked very hard for his family and built a solid foundation for them for the future. He loved everyone around him and was always a positive man. There was no negativity shown towards anyone. Nothing was a problem for dad and he tried to find a solution to problems. He loved to read excerpts from the bible as he was a devoted Christian. Our dad would try to get you to explain the meaning of these excerpts. He was a very smart and intellectual kind soul.
Dad worked at Motor Coach Industries for many years until his retirement in 2002.
There are no words to describe our pain. We will miss seeing him in his chair watching out the window, asking our mom for money to go on the bus to city hall, wanting to go at the bottom of the Salter Bridge to pay his utility bill. Everything about our dad we will deeply miss. Gone forever but always in our memory and hearts. We love you dad, the greatest man on earth.
Donations can be made to St. Luke's Zion Lutheran Church
Viewing and prayers will be held Thursday June 13 at 7:00 p.m. at Cropo Funeral Chapel, 1442 Main Street. Funeral service will be held on Friday June 14 at 11:00 a.m. at St. Luke's Zion Lutheran Church, 2903 McPhilips Street.