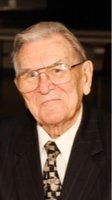 MARTIN KOROSCIL
Martin Koroscil
May 20, 1925 - May 12, 2019
After a long life filled with love and laughter, Martin Koroscil left his family and friends, whom he loved very much, to join his wife Jessie and his Lord, Jesus Christ.
Left to cherish his memory are daughters Marlene (Ron Lukie), Mary Schmidt, son, Randy (Karen Tereck), grandchildren Kristin (Todd), Carmen (Clayton), Maxine (Chris), Tosh, Quentin (Cora), Scott (Amy), Brent, and seven great-grandchildren.
Martin and Jessie shared their life and love for 62 years of marriage. Martin spent his career as an educator, both as a teacher, and as a guidance counselor in one room school houses and eventually in Dauphin High School.
He is remembered by anyone who met him as a consummate gentleman, and a gentle man. Always polite, never judgmental. He was a great conversationalist who kept up with world affairs. He was generous, humble and never complained, despite his physical hardships.
The love Martin gave to the world came back to him in droves. The family is so grateful to Pat Stockburn for her friendship and care. We would also like to thank Dale for being his cherished friend. To the staff at Holy Family Home, for the respect and care they showed our "Bops", thank you.
In lieu of flowers, donations can be made to Holy Family Home "Lubov Foundation"
Funeral Service will be held Thursday, May 16th at 7:00 pm at St. Joseph's Ukrainian Catholic Church at 250 Jefferson Avenue
Vichnaya Pamyat. Christ is Risen.