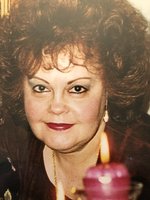 FLORENCE SWEREDA
FLORENCE SWEREDA
On May 6, 2019, at the St Boniface Hospital, my loving and devoted wife Florence was gently lifted by angels' arms freeing her from any pain. Florence's strength and memory will live on and be cherished by her husband and soul mate of 55 years Jarvis. Florence was predeceased by her loving parents Steve and Anne Baryski (Nawolski) and her in-laws Nicholas and Eveline Swereda.
Florence was born on July 16, 1943, and lived on a small farm in Chatfield, MB. As an only child, Florence was very devoted to her parents and helped with the many chores on the farm. Here, her love of animals began and continued up to her passing. Still in her teens, Florence made the move with her parents to a small acreage in St. Vital. Florence continued with her education, graduated and found employment with Manitoba Telephone Systems.
Florence and her parents enjoyed many social outings and at one particular social in Lac du Bonnet, she met a young man who was very interested and persistent, Jarvis Swereda. Florence and Jarvis were married October 12, 1963, at Sts. Vladimir and Olga Cathedral in Winnipeg. They settled in St. Vital close to her parents and continued to live there, building their present home and the business they both established together, Starfield Autobody. Florence was very instrumental in the success of the company, working side by side with Jarvis, Brad, John, and the "boys". Her people and organizational skills, and office work ethic helped Starfield grow with a foundation of trust and integrity, of which it still is today. Florence eventually moved her office into her home but continued to work long hours keeping the books well-organized. Florence took on another role where her love of animals expanded greatly and the birth of Starfield Stables was realized. Again, Florence was a hands on partner. Her role included the naming of horses, attending all races and functions, and of course being lucky at picking the winners. Most recently, Horse Canada recognized Florence and Jarvis as the most likeable and popular couple in horse racing in Winnipeg.
Florence loved entertaining her large extended family and countless friends and was known for her elaborate Christmas dinners and delicious meals. She would always include her many aunts, uncles, cousins, and friends. Florence was generous in so many ways. Her life centered around family. Florence always had time to listen, share a story, or shopping tip and help others. She was always there for family when needed, the go-to person comforting others with her kind words, beautiful smile and warm hugs.
Florence has left a huge void in many lives. Her unconditional love , encouragement and respect of others will live on in the hearts of many.
Funeral Service will be held on Wednesday, May 15 at 10:00 am. at Cropo Funeral Chapel , 1442 Main St. with Rev. Msgr. Maurice Comeault, P.H. officiating. Interment will follow in the family plot at Green Acres Memorial Gardens.
Pallbearers will be, Darren Dunn, Ron Nawolski, Roy Naurocki, Brian Osadick, Tim Shay, and Brad Thompson.
In lieu of flowers, donations may be made in Florence's memory to the Winnipeg Humane Society, 45 Hurst Way, Winnipeg, MB. R3T 9Z9.
We will always remember
The way you looked,
The way you talked and smiled
All the things you did for us all the while.
You always did your best,
Your heart was true and tender.
You lived your life for those you loved
And those you loved will remember.
"Rest in Peace"
Florence