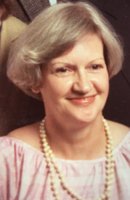 MARGARET HELEN WAKEMAN
MARGARET HELEN WAKEMAN
With the loving support of her three children, Margaret Helen Wakeman (Wood) died May 6, 2019. She was predeceased by her husband of 56 years, Maurice and her siblings Donna Kalkhoven (Roger), Sheila Wilson (Bill) and Donald Wood.
She is always remembered by her sons Stewart (Sandra) and Murray (Debbie), her daughter Leslie (Paul) and her niece Lisa (Gary). She was exceedingly proud of her grandchildren Kristin, Adam, Andrew, Caitlin, Brendan and Stephen.
Affectionately known as Maggie, Mom was born August 14, 1932 and raised in East Kildonan. She was classically trained in piano from an early age. She enjoyed sports and was a pioneering hockey player, playing on the local boys team. She always smiled reminding us of how she could keep up with the boys. We suspect a few of the boys were really keeping up with her. Although she didn't play after her youth, she enjoyed watching the game and followed the Winnipeg Jets to the end of their season this year.
Mom met her sweetheart and husband 'Moe' at the Kildonan Canoe Club and nurtured a romance in the style of the day at the Half Moon Restaurant. They married on June 30th, 1951. Their early years included dances, trips to Caddy Lake, gardening, and road trips to spend time with friends and family.
Mom made sure we had the quintessential Canadian upbringing. We had many family camping trips including a cross-country pilgrimage to BC in our white, Chevy station wagon with Jonsie, our standard black poodle. While Dad was the driver, Mom was always the coordinator and navigator. Mom navigated the celebrations in our lives too. She prepared and hosted parties and cooked meals with love and attention to mark milestone events in our lives. Those parties still hold warm memories for us.
Mom was a supporter of education and attended to our preschool learning before early years education was considered important. Books, writing, trips and concerts... anything to feed our minds. There was never a doubt that we would pursue a post secondary education and she mentioned it often!
As we grew, Mom returned to work as a Switchboard Operator with the Children's Hospital and later she was the main receptionist for Price Waterhouse. She spoke fondly of students who arrived new to the firm as her 'kids' and she enjoyed helping to orient them into the daily workings of the office. On her retirement, they gifted her a small trophy with the words "Thanks, Mom".
Always a learner, she was a self-taught artist and crafter. Mom sketched beautifully, turned her hand to story writing and illustrating and sewed or knit beautiful clothes and toys over the years. Matching cable knit sweaters magically rolled off her needles for her family and hand-made doll cradles and bedding were cherished gifts. She filled our lives with beauty and fun. Mom enjoyed the advent of personal computers and became known affectionately as 'Cybergranny'. She spent many hours connecting to the world through the internet, reading, researching, and emailing. It wasn't unusual for her to send us information we might find beneficial.
As Grandparents Mom and Dad filled their grandchildren's lives with love: rainy day packages for the lake with educational and fun activities, miniature picnic tables, back yard golf, reading on the couch, Disney dinners, a ride on the Prairie Dog Central and you could always expect to see Mom and Dad cheering loudly on the sidelines of a Special Olympics snowshoe race or track and field event.
Mom and Dad shared an on-going love of camping with a seasonal spot at Falcon Lake for several years. They loved their retirement home on their small acreage in Oakbank where they continued to garden. The yard gave them space to raise a few generations of American Cocker Spaniels under the name of Chelsealine Kennels. They won many ribbons for their dogs whose beautiful natures revealed the care Mom and Dad provided.
Mom loved music, especially the swing and big band sounds. Whether a favourite collection or CJNU radio, music filled the house, often making it hard for her to hear the doorbell and for us to talk! Music is how we spent our last days with Mom, a final concert brought her joy and gave us healing.
We would like to acknowledge the excellent care Mom received at the River East Personal Care Home. It is clear that her home was filled with people who became extended family. We deeply appreciate the compassion and support that allowed Mom to live well and with dignity. We felt that compassion and support from staff for our family as Mom's life ended. We are so grateful.
A lesson in perseverance, Mom's feisty and determined nature remained even into the final hours of her life. We take comfort in knowing Mom's love, guidance, creativity and spirit live on in the hearts and minds of her children, grandchildren and those around us. A private family celebration has been planned. In lieu of flowers, please consider a donation to Special Olympics Manitoba on the Canada Helps website www.canadahelps.org
Thank you.