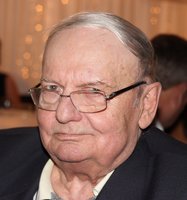 Kasmer Mervin Baranoski
Kasmer Mervin Baranoski
May 19, 1940 – April 13, 2019
It is with heavy hearts that we announce Kasmer Mervin Baranoski passed away suddenly on April 13, 2019.
Kasmer will be greatly missed by his children, Sandi, Kenneth (Laura, Brianna (Zachary), Joshua, Darius, Mason, Aries and Kyrie), Joanne and Janice (Tomasz) and grandchildren Justine, Christopher and Emily.
Kasmer grew up in Roblin, Manitoba on a family run farm, but left as an adult to begin work as a bank manager.
Kasmer met his wife Linda while living in Thunder Bay, Ontario and from there, moved to Winnipeg, Portage la Prairie, Gilliam, Ignace and finally back to Winnipeg in 1987 where he resided for the remainder of his life.
Kasmer enjoyed the outdoors and had a passion for hunting, fishing and camping or a simple long drive in the countryside with family, stopping to enjoy the local scenery. He had a big heart for his grandchildren Justine, Christopher and Emily and visited them often as they grew up.
He was a lifetime member of the Knights of Columbus and a faithful believer in the Church.
He is predeceased by his wife, Linda Baranoski whom he loved and continued to miss every day since her passing. We all wish you happiness in the spirit world, until we see you again.
Mass of Christian Burial will be celebrated on Wednesday, April 17 at 10:30 a.m. at St. Anthony of Padua Church, 250 Burrin Avenue.