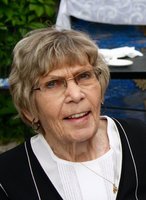 ALMA HAZEL DUVAL
ALMA HAZEL DUVAL (SKOGAN)
1926-2019
It is with great sadness that we announce the passing of Alma DuVal on Monday, April 8, 2019. Left to hold her memory dear are her children, Sherri, Gerry (Diana), Glen (Brenda), Mark, grandchildren, great grandchildren as well as brother and sister's in law, nieces, nephews and many good friends.
Alma was a woman who was open to adventure, a kind and caring volunteer and a wonderful and loving mother, grandmother and great grandmother.
Alma has gone to join her husband Gordon and other family members who have gone before her. Alma will be received with love and open arms.
Thank you to the staff at Middlechurch Home for all of their caring and kindness. Special thanks to Denise and Reena for the connection and special attention that they gave.
A Memorial Service will be held at the Cropo Funeral Chapel, 1442 Main St. in Winnipeg on Wednesday, May 29 at 11:00 a.m. This will be followed by interment for family members at the Inwood Cemetery, Inwood, Manitoba.
In lieu of flowers, please make a donation to Siloam Mission – a charity that was near and dear to Alma's heart.