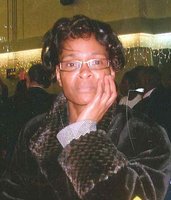 BLONDELL ROSALYN TULIP CARR
BLONDELL ROSALYN TULIP CARR
August 23, 1956 – March 13, 2019
Blondell Rosalyn Tulip Carr passed away peacefully surrounded by family and friends by her side.
Blondell is survived by her loving children, Chauncey and Justine Carr, ten siblings and numerous nieces and nephews. Blondell is also survived by her mother Ethelyn Belle and step father Winston Belle.
Blondell was predeceased by her father Leonard Carr.
Blondell will best be remembered for her infectious smile and wonderful sense of humour.

Appreciation is extended to Monica, Mary Philbert and her best friend Nola for their love as well as the staff at Calvary Place for their care over the years.
Celebration of Life will be held on Saturday, March 16 at 2:00 p.m. at Elmwood Christian Fellowship, 414 Tweed Avenue. Interment will be held at a later date.