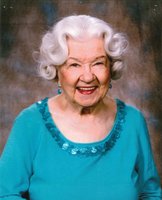 ADELINE FRANCES PESTO
ADELINE FRANCES PESTO (nee Piotrowicz)
November 12, 1919 – February 27, 2019
Peacefully, on February 27, 2019, Adelene (as she preferred to spell her name) passed away at the age of 99 into the loving arms of Jesus at the Convalescent Home of Winnipeg where she resided for the past 3 ½ years. She is survived by her son Johnny (Lois) and grandchildren Loreen (Jan) Mazur, Scott (Heather) and Michael (Janine), her sister Phyllis Van Haute-Johnson, numerous and cousins, nieces and nephews. She was predeceased by her parents Henry (1963) and Frances (1984), brothers Norman Piotrowicz (1974), Ferdinand Peterson (2010), and sisters Gertrude Theobald (2003) and Florence Belza (2017).
Adelene was born in Winnipeg on November 12, 1919 according to records, but she maintained that her birthdate was one day earlier on November 11, 1919 because government offices were closed for birth registrations and her father ended up registering her birth the next day. In her younger years, Adelene worked as a candy-maker at Galperin Candy and later at Eaton's Candy Factory. During her homemaking years she spent many hours in her vegetable garden and lovingly tending to her flowers, especially her roses and bright coloured geraniums. When she moved into an apartment, you could always pick out her place from ground level by the plants and flowers appearing on her balcony. She enjoyed the opportunities provided as a life-member of CPAC, playing Bingo, taking group bus trips, going on club picnics and she especially enjoyed the music and dancing at CPAC events with family and friends. Later on, spending afternoons at the CPAC senior's club brought her joy.
For a few years, Adelene and her sisters, Gertie and Florence along with their aunt and uncle lived under the same roof, although they had separate apartments. It was good for them to be close. In true Winnipeg fashion, Adelene enjoyed shopping with Florence and finding the latest bargains at Eaton's and The Bay.
Once Florence moved to Ontario, Adelene moved to Lion's Place where she lived right across the hall from her school chum Bernice. They enjoyed time together until declining health separated them. Fate eventually reunited them at the Convalescent Home of Winnipeg, once again living on the same floor until Bernice's passing.
Thank you to the Convalescent Home of Winnipeg for their great personal care given mother these past few years, and a great big heartfelt thank you to all the staff on the 3rd floor, especially Isaac and Pat who could always put a smile on mother's face. She was a kind and loving mother and grandmother and she will be deeply missed.
A funeral service will be held on Thursday March 7, at 10:00 am at Cropo Funeral Chapel, 1442 Main St. with Rev. Msgr. Maurice Comeault., P.H. officiating. Interment to follow at Holy Ghost Cemetery, 4387 Main St., West Saint Paul, MB. Pallbearers will be John Pesto, Scott Pesto, Michael Pesto, Jamie Barbour, Ron Barbour, Heather Pesto. Honorary pallbearers George Lee, Don Theobald, and Ken Babb.
In lieu of flowers, donations may be made in memory of Adelene to the Convalescent Home of Winnipeg, 276 Hugo St. N, Winnipeg, MB R3M 2N6, http://www.tchw.com/index