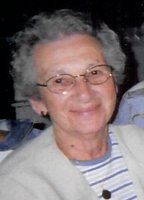 MARY LOPUCK
MARY LOPUCK
(NEE TYMCHUK)
May 12, 1927 – February 23, 2019
It is with heavy hearts that we announce the passing of Mary Lopuck on February 23, 2019 at the age of 91. Mary leaves to cherish her memory; her niece Diana Hansell, grand nephews and nieces Jeff Hansell (Shannon, sons Bradley, Ryan); Nadine Hansell (Rick Thomas, daughter Charliena); Gord Nykoluk (Kim, daughters Mikaela, Tara, Courtney); Doug Nykoluk (Dorothy, sons Sean, Bryan, daughter Jessica, granddaughter Jade); Lynn Nykoluk (goddaughter); and sister-in-law Jo Lopuck as well as other relatives and friends.
Mary was predeceased by her beloved husband Len in 1980, her parents Alexander and Dora Tymchuk, brothers John and Mike, nephews and niece Jack Nykoluk, Richard and Joyce Nykoluk, and Barry Hansell.
Mary was born on May 12, 1927 in Transcona where she was proud to live her entire life. She attended Central School, and later the Manitoba Commercial College to prepare for a typing and administrative career. She was employed by the Canadian Wheat Board for 35 years prior to retiring in 1978. It was at the CWB where she met many of her lifelong friends who would accompany her on several world travels as well as frequent get togethers over the years. Mary was a long-time member of the Transcona Seniors Club and an avid mall-walker. Mary also volunteered for Meals on Wheels for 28 years, and donated many knitted and crocheted articles of clothing to various organizations up until her passing.
Mary and Len were married in Transcona on June 7, 1952 and shared many joyful years together. Summers were spent at their cabin at Big Whiteshell Lake, hosting many a heated poker game and Mary always had delicious baking and snacks to offer. After Len passed, Mary sold their cabin and bought another at Wanasing Beach where she spent her early retirement years. Having bought the new cabin, and wanting to be independent, Mary learned to drive at the age of 53 and continued to drive with a spotless record throughout her life.
Mary's pride and joy was her little dog, Nikki, who gave her many hours of comfort and companionship later in life. Having previously passed away, Nikki's ashes will be buried alongside Mary to keep her and Len company on their new journey.
Our Auntie Mary was a strong and generous lady. We will miss having her ageless smile with us at the table.
In keeping with Mary's wishes, cremation has taken place and a private family gathering will be held at a later date.
In lieu of flowers, should friends wish, donations may be made to a charity of their choice in Mary's honor.