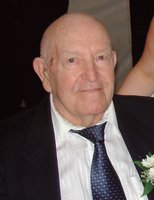 JOHN WASYLNUK
JOHN WASYLNUK
With deepest sadness we announce the passing of John, at 88 years of age, on February 25, 2019 with family by his side. John was born in Rackham, Manitoba, June 6, 1930.
John will be lovingly remembered and left to mourn his passing are his wife Freda, of 67 years, sons Nelson (Gail), Glenn (MaryAnn), Mitch (Diane), Wes (Kim), Daughter Sandra (John), Grandchildren and great Grandchildren, Brother, Sisters and many Nieces and Nephews.
John worked at CNR from 1951 to his retirement in 1988, and since then he spent most of his time fishing, golfing, and doing volunteer work. His hobby of hand crafting a musical instrument called tsymbaly (dulcimer) and playing with a group of musicians to entertain various seniors clubs and nursing homes.
The service will be held this Tuesday, March 5 at 10:30 a.m. at St. Michael's Ukrainian Catholic Church (100 Yale Avenue East, Transcona).