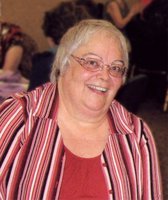 IRENE MAY JOY
IRENE MAY JOY
Irene May Joy (nee Walsh) passed away on January 6, 2019, after a 4 year battle with cancer. She was born on May 31, 1945 in Kenora Ontario to John and Eva Walsh. Growing up in Keewatin Ontario, Irene spent her days playing with friends under the street light on Wharf Street, figure skating at the local arena and playing baseball with her brothers in the backyard.
Irene took pride in her work as an account technician, always finding solutions to the unsolvable. Irene was a founding member of Manitoba Prairie Quilters and of the So and Sews. She always looked forward to their monthly get togethers. Creativity was in her blood; knitting, crocheting, quilting, scrapbooking and countless other crafting endeavours were never far from hand.
Irene was a proud mom and Gramma. Left to honour her and remember her love are her daughters Stacy Joy and Amanda (Allan) Lau; grandchildren Caitriona and Evan Lau; her brothers Philip (Edna Jackson) Walsh and David (Audrey) Walsh; and her nieces and nephews.
Irene will be forever remembered by all those who knew her and we will be kept warm by the numerous quilts, afghans, scarves, mitts and hats made by her loving hands.
Family, friends, and all others whose lives Irene touched are invited to the Parish Church of St Luke (130 Nassau Street North) on January 18, 2019 to celebrate a remarkable woman. The service will start at 11am, with a reception to follow in the parish hall.
Stacy and Amanda would like to extend their gratitude to the staff of CancerCare Manitoba, Victoria Hospital site, for their attentiveness and loving care. In lieu of flowers, donations in honour of Irene would be welcomed by CancerCare Manitoba Foundation.