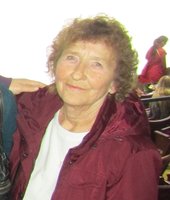 MYRNA WAZNY
MYRNA WAZNY
After a courageous battle with cancer, Myrna Wazny aged 75, passed away peacefully on December 20, 2018 at the Victoria General Hospital.
She was predeceased by parents Frederick and Katherine Hintz, husband Robert, siblings Arthur, John, Kenneth, Violet, and Shirley, and beloved animal companion Bootsie.
She is survived by daughter Janice Gehman, brother-in-law Paul Zip, sisters-in-law Evelyn Prucyk and Barbara Wazny, and several nieces and nephews.
In keeping with Myrna's wishes, a funeral service will not be held. We ask that you celebrate her life in a way that's most meaningful to you.
Donations in Myrna's memory can be made to the Winnipeg Humane Society.