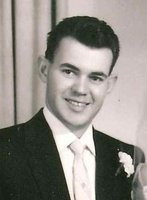 FRANKLIN DAVID BLISNER
FRANKLIN DAVID BLISNER
Frank Blisner, 88, husband, father, grandfather, great-grandfather and friend to all, died peacefully on December 15, 2018 at Grace Hospital in Winnipeg, Manitoba. Frank and his wife Josephine had five children, all born in Regina, Saskatchewan. In 1971, the family moved and settled down in a house they built in Winnipeg, where Frank and Josephine raised their five children and resided for the next 45 years. During that time, it would not be unusual that if you showed up for a visit, Frank and Josephine would already be hosting friends and family. Frank's outgoing personality and his ability to bring laughter made everyone feel welcome.
Frank loved working in the yard, tinkering in the garage and reading, surpassed perhaps by his love for both the Winnipeg Blue Bombers and Winnipeg Jets. However, his real and unabating passion was for his wife and children. As a father, Frank always put family first. Later, he was blessed with many grandchildren and a great-grandson. When Frank spent time with them, it never ceased to bring a sparkle to his eye or a smile to his face. Frank instilled in his children a belief in themselves, a commitment to family and friends, and the power of laughter. The legacy of his spirit, loyalty, and love of family will live on through them. Frank's kindness and generosity extended well beyond his own family, as he was always willing to lend a hand to those that asked, and to many that did not.
Frank will be dearly missed by Josephine, his wife of 64 years, his five children Lori (Dave), Kelly (Darrell), Brad (Shelley), Barry (Alayne) and Boyd (Barb), his eight grandchildren Ainsley, Ashton, Blake, Cole, Drew (Paige), Jack, Landyn and Olivia, and his great-grandson Leif. Frank was Catholic, and for many years he and Josephine have been members of Mary, Mother of the Church.
A Mass of Christian Burial will be celebrated at Mary, Mother of the Church, 85 Kirkbridge Drive on Friday December 21, 2018 at 10:30 a.m.
The family would like to thank the Grace Hospital staff for their wonderful and caring attention to Frank. In lieu of flowers, please consider a donation to a charity of your choice.