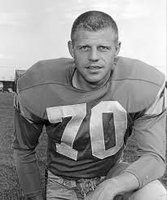 NORMAN CARL RAUHAUS
Peacefully on Monday November 26, 2018 Stormin' Norman Rauhaus passed away at the age of 83 at Beacon Hill Lodge surrounded by family.
Left to cherish his memory are his wife of 56 years, Claire and his children Wade (Sunny), Jason (Sandra), Marni Friesen (Jayson) and Matthew (Aya), grandchildren Joshua and Kai, Mark and James, Cody and Riley and Lucas and many family and friends.
Born to Arthur and Helen Rauhaus, siblings Arthur deceased (Marilyn), Sara (John deceased) and Robert (Margaret) in Winnipeg, MB on November 4, 1935. Norm moved to Regina and attended Luther College and moved back to Winnipeg to graduate from Kelvin High School. He was a natural at sports and excelled at many, especially football.
Norm played for the Blue Bombers from 1956-67 at the position of Safety & Wide Receiver. He was inducted into the Blue Bomber Hall of Fame in 1987, Division All-Star in 1961, Dr. Beattie-Martin Trophy (Most Outstanding Canadian Rookie, West Div) 1956 and the Blue Bombers Most Outstanding Canadian in 1961.
A born-and-raised Winnipegger, Norm Rauhaus attended Kelvin High School and played his junior ball with the Weston Wildcats before turning pro with his hometown Blue Bombers in 1956. Rauhaus would play 12 years for the Bombers and was part of four Grey Cup championships.
He made an immediate impact, too, as he was the West Division's top Canadian rookie in 1956 and the Bombers top Canadian five years later, in 1961. Rauhaus is remembered for being a versatile and reliable player who also made one of the key plays in the 1958 Grey Cup win when he recovered a punt block in the end zone on the last play before halftime in what turned out to be a pivotal momentum changer. He retired with 34 interceptions – first on the Bombers all-time list until it was eclipsed by Rod Hill in the 1990s. Rauhaus' totals still rank second.
Norm worked for many years in the window and doors industry before retiring from Kent Marketing in 2005 at the age of 70. His family have fond memories of picnics at Assiniboine Park, swimming at Falcon Lake and Matlock Beach, and taking day trips to Winnipeg Beach. Norm enjoyed coaching and spent many autumns blowing his whistle and shouting encouragement to his players. He coached Pop Warner and was Head Coach for the Winnipeg Rods and Winnipeg Hawkeyes. Norm had as much or more fun than the players that he coached.
We thank the support and care we received from Beacon Hill Lodge. A special thanks to Hazel for bringing a smile to Norm's face.
Cremation has taken place and a Celebration of Life will be held on Monday December 3, 2018 at 10:00 a.m. at Cropo Funeral Chapel, 1442 Main St., Winnipeg.