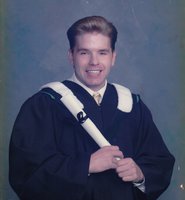 JEFFREY RONALD FRANCIS GORBER
JEFFREY GORBER
December 18, 1973 - May 6, 2018
It is with great sadness and heavy hearts that we announce the sudden passing of our son and brother Jeffrey Gorber on May 6, 2018.
Left to cherish his memory are his mother Frances and sister Kathryn Gorber, as well as many friends and relatives in Canada and the U.S.A. Jeff was predeceased by his father Ronald Gorber, his Aunt Felice Rybak, Aunt Valerie and Uncle Joseph Hnidan, and Uncle Edward Gorber. He will also be sadly missed by his two rough collies Duke and Duchess.
Jeff was born in Winnipeg and was a wonderful child. He attended Provencher School and Windsor Park Collegiate. He acquired type 1 diabetes at the age of 5 and endured it with a positive attitude, determination, courage and dignity. Despite his illness, Jeff accomplished many things in life including obtaining a Bachelor of Arts degree from the University of Manitoba.
Jeff loved sports. ln the summer he would bike ride, golf, swim and play tennis. ln the winter, he loved skating and playing ice hockey with the Southdale Lakers as a child. His greatest passion was spending time at the family cottage at Winnipeg Beach with friends and family. Jeff was also an avid reader and had a collection of books on various subjects.
Jeff was a kind and generous person. He had a pleasant personality, a good sense of humour, had a warm smile and gave great hugs.
The family thank Dr. Casey Woo as well as all the nurses and healthcare aides that provided care to him, as well as the Dialysis Team at St. Boniface hospital and the Transplant Team at Health Sciences Centre. We also extend heartfelt thanks to his dear and lifelong friend Noel Tamblyn.
A Funeral Liturgy will be celebrated on Thursday, May 17, 2018 at 11:00 a.m. at St. Bernadette's Parish, 820 Cottonwood Rd. A private entombment will be held at Chapel Mausoleum, Assumption Cemetery at a later date.
In lieu of flowers, donations may be made in Jeff's memory to Diabetes Canada or the Winnipeg Humane Society.
Rest in Peace