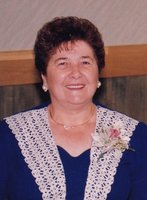 IVKA GOMERCIC
IVKA GOMERCIC
(nee SILIC)
It is with deep regret that we announce the passing of our mother and grandmother, Ivka Gomercic on Monday, March 26, 2018 at Seven Oaks Hospital at the age of 82 years.
Ivka is survived by her sons, George (Shannon) and Bob; and grandchildren, Jory, Taylor, Meagan and Nicole. She was predeceased by her parents; both brothers; and husband Djuro.
Mom was born in Ravna Gora, Croatia and immigrated to Canada with dad in 1958 and started their new life. Mom's greatest joy came from her children and grandchildren and spending time with her family and friends.
Special thanks to nurses, Tamara and Sherry at Seven Oaks Emergency for their exceptional compassionate care.
Memorial Mass will be held at St. Nicholas Tavelich Roman Catholic Church, 2688 Main Street on Wednesday, April 4 at 10:00 a.m. A private family interment to follow at a later date.
In lieu of flowers, the family requests that donations be made to the Manitoba Lung Association.