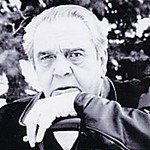 George THOMPSON
GEORGE LEROY (LEE) THOMPSON
1938-2008
With great sadness we announce the passing of Lee, dear husband and father, on Tuesday August 12, 2008.
Lee was born May 27, 1938 in Selkirk, MB. He was the only child of Isabel and Walter Thompson.
Lee moved to Thunder Bay in 1944 to commercial fish with his family. He then moved to Winnipeg in 1961 and was married in 1963. He worked as a musician in the 1970's, and then for Livingston Distribution Centre for 20 years. He spent 5 more years working for Piston Ring before retiring in 2005.
Lee was predeceased by both his parents. He is survived by his wife and 'best friend' Adele, son James and daughter Isabel. He also leaves to mourn his mother-in-law Hazel McLean, brother-in-law Garry (Irene) Miller and family, and several cherished family pets.
A private service will be held in his memory.
Because of his love for the outdoors and wildlife, in lieu of flowers, the family asks anyone who wishes to contribute to: Wildlife Haven Rehabilitation Centre, Box 49, Glenlea MB, R0G 0S0
" Roses are red my love..." - A
We miss you dearly - M, J & I
Cropo Funeral Chapel
586-8044