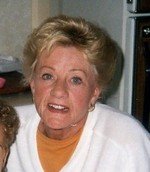 Patricia LaFrance
Patricia Madelaine LaFrance
(nee Smale)
With heavy hearts, thankfulness and peace we announce the passing of Patricia on Monday, August 11, 2008. Patricia was born in Killarney, MB on November 9, 1931 to Thelma and Stan Smale. With her passing Pat's spirit will wander free as she is reunited with her sister Joan Benstead and her parents.
Pat married George on September 1, 1951. Their son Darcy came along in 1953 followed by their daughter Sheri in 1957. Without hesitation, Pat centered her life around her family, simply enjoying their time together. Those times became more exceptional with the addition of grandchildren. Pat adored her granddaughters and treasured all the time spent with them. She found it very difficult to accept the physical separation caused by their move to BC. Pat had a unique and deep-rooted relationship with her only grandson, never tiring of his company. Pat and George enjoyed many years of travelling to Florida, Texas, and her absolute favorite place Hawaii. She loved to golf and her long association with friends at the Niakwa Country Club brought her much joy. Pat was an elegant individual, a real lady who appreciated fine things. She loved music, dancing and fashion, flowers, birds, animals and having a lake for a backyard. She had a unique sense of humour that often included a touch of wit and a hint of sarcasm. She lived life with a strong sense of purpose, and held many great values including a determination to be fair. She strove for absolute perfection in everything she touched. With grace and dignity, Pat accepted an illness that began in 2002. She showed great courage, tenacity and unwavering strength. From beginning to end she never complained. We love her for the lessons she taught us.
Remaining to honour her memory are her husband George; son Darcy; daughter Sheri; granddaughters Crystal and Michelle; grandson Keinan, numerous relatives and friends.
Our family extends deepest gratitude to the St Boniface Hospital Palliative Care Program for the excellent and compassionate care they provided.
Cremation has taken place and a private service will be held with interment to follow at Glen Eden Memorial Gardens.
In lieu of flowers donations in Patricia's memory may be made to the Manitoba Lung Association. An online book of condolences may be signed at www.cropo.com.
CROPO FUNERAL CHAPEL
586-8044