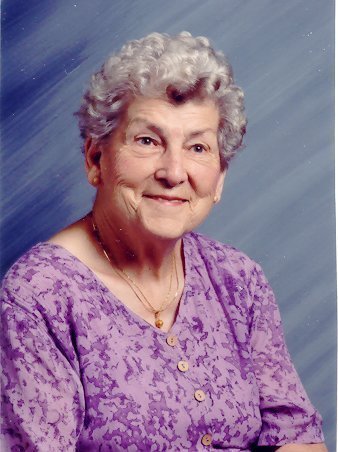 Obituary of ELISE CHARTRAND nee Buors
On August 4, 2017, Elise Pauline Chartrand, born April 26, 1916 passed away quietly in the Minoru Residence in Richmond, BC.
She was predeceased by her husband, Adrien Chartrand, and daughters, Rhea Hudson and Corinne Loft.
She leaves behind her daughter Loretta and husband Michael Singorgo, daughter Roseline Burrows, daughter Serena and husband Robert Lambert, son Adrien Jr., son-in-law Gerry Hudson, son-in-law Ken Loft, nine grandchildren and 11 great-grandchildren.
Elise and Adrien lived in St. Laurent, Manitoba until they were ready to retire. Since most of their family had moved to Vancouver, they relocated there to be with their children and to enjoy the better climate. Elise was admired for her steadfastness, her courage and perseverance, and her devotion to her husband and family. She had a special place in her heart for the children in the family and the children loved her and were frequent visitors. In Assisted Living she made some good friends and the staff enjoyed her company. She became the darling of Courtyard Gardens. She then transferred to Minoru Residence in the final stage of her life.
Sincere gratitude to Dr. Howie and to all the professional caretakers and the dedicated staff at Minoru who were so kind and helpful. Thank you for keeping her as comfortable as could be expected in the final days of her life.
A Memorial Mass will be celebrated on Tuesday, August 15, at 7:00 p.m. at Our Lady of Perpetual Help Roman Catholic Church, 4588 Roblin Boulevard, Winnipeg, Manitoba.
We may no longer see her in the flesh but she leaves a feeling of love in our hearts forever. God speed Mom!