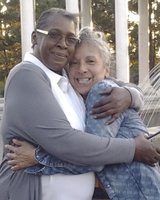 WANDA JEAN McPHEE
WANDA JEAN McPHEE
September 18, 1958 - April 10, 2018
Wanda Jean McPhee of Winnipeg, MB has suddenly passed away with immense sadness to our hearts on April 10, 2018.
A beautiful extraordinary woman who believed in her heart and soul to treat everyone she met how she wanted to be treated. The people she "LOVED" were called 'baby' with genuine kindness and love.
Wanda was predeceased by her mother Audrey Borden McPhee, her husband Jubal Fraser, and daughter Kiesha.
She leaves to mourn her passing her son Tristan, granddaughter Emjay, bestfriend Olga and special friends that were like family to her and her family.
Wanda was employed by Shoppers Drugmart in Kildonan Place for almost a decade. Anyone who met her only knew of her kind, loving words she expressed to them and never the torment she suffered inside.
A Funeral Service will be held on Tuesday, April 17 at 1:00 p.m. at Cropo Funeral Chapel, 1442 Main Street.