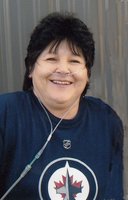 WENDY LOU REMPEL
WENDY LOU REMPEL
(nee PRETTIE)
After a courageous battle with C.O.P.D. Breast Cancer on Monday, April 9, 2018 Wendy Lou Rempel, beloved wife of David Rempel, passed away at Seven Oaks Hospital at the age of 59 years.
Wendy is survived by her husband David; sons, James, Trevor and Jamie; daughter-in-law Morgan; grandchildren, Dakota, Mya, Jesse, Jacob, James Jr., Sincerity; sisters, Lynn, Betty, Penny (Garry), Shelly (Cameron); brothers, Raymond, Billy, Ritchard; brother-in-law Peter; as well as, numerous nieces and nephews. Predeceased by parents; grandparents; brothers, Randy, Sheldon, Gerald; sisters, Sandra, Rhonda; nieces, Valerie, Jane; and nephew Gerald Jr.
Wendy loved working, history, painting and agriculture. She loved her family and she loved her little dog Korkie. Her hobbies were bingo and our beautiful grandchildren, beading, crafts and puzzles.